Marilyn Monroe Personal Items
The following items were personally owned by Marilyn Monroe
---
A Beaver Coat: A full length winter coat of beaver fur, with turned-back cuffs, lined with scarlet satin woven with a pattern of ties, labeled Fantasia Beaver. This amazing fur was worn by Marilyn Monroe to the party for "Let's Make Love." Marilyn is also pictured wearing this coat in candid New York city photos.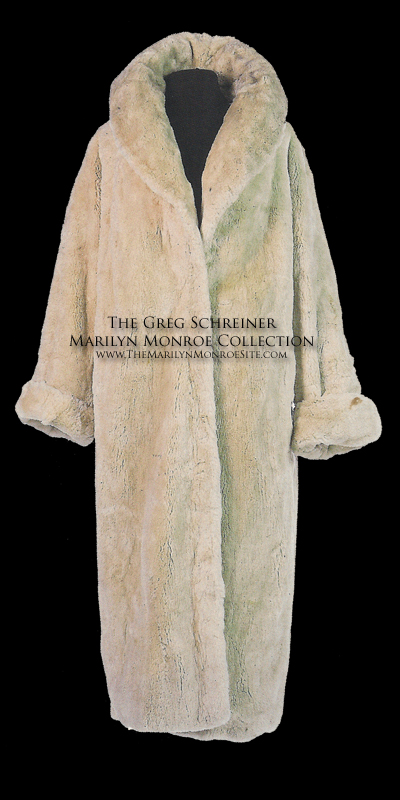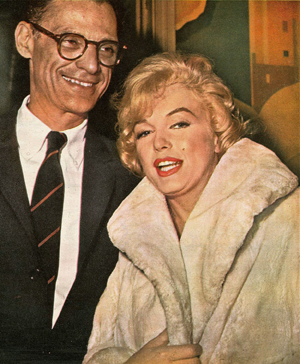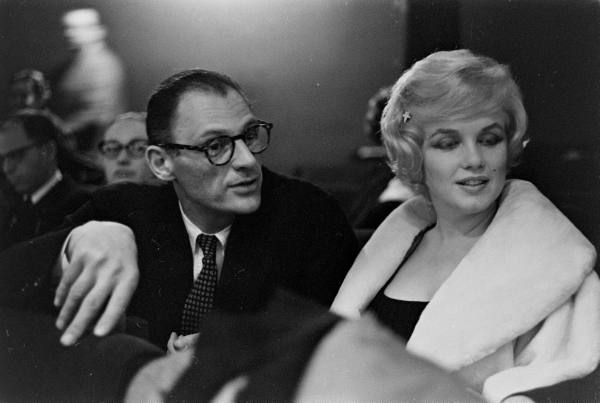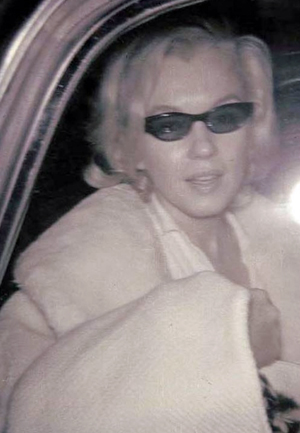 ---
A Black Velvet Dress: From the 1999 Christie's Sale "The Personal Property of Marilyn Monroe," A long-sleeved black velvet dress with folded cuffs and a removable ivory satin peaked-lapel collar.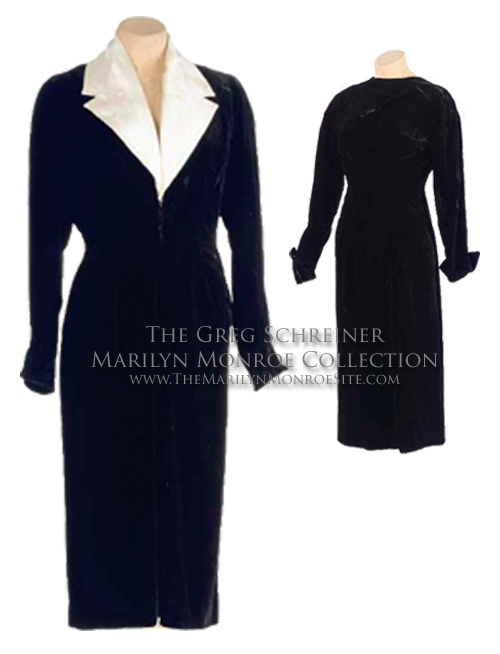 A Casual Blouse
A pastel pink silk blouse with short sleeves, a small pointed collar and a six button front closure; interior label reads: "designed by Jax."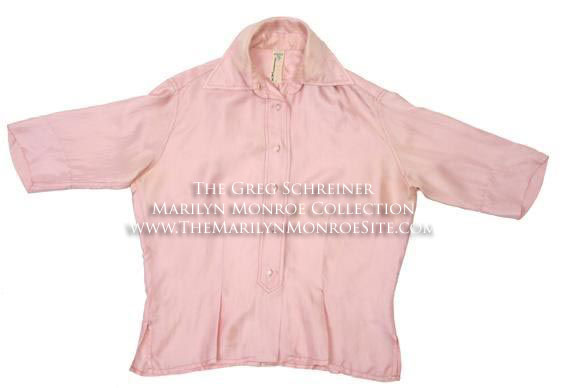 ---
A Niagara Script: Marilyn's personal script for "Niagara" with several pages of handwritten notes and annotations.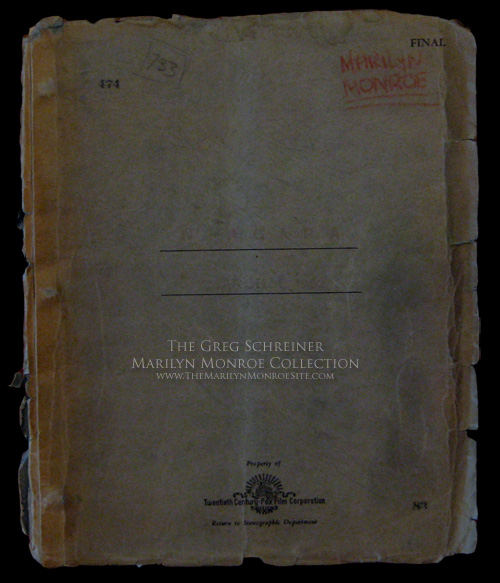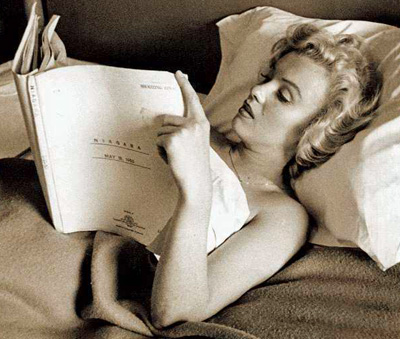 ---
Marilyn Monroe Handwritten Notes on the Back of Menus, 1952
Two menus dated March 26, 1952, featuring notes on verso in blue ink in Monroe's hand that appear to have been taken during a meeting with someone advising her about her career. The menus are dated just 10 days after Monroe's nude modeling shots were made public by the media. Monroe had recently appeared in a number of films in small parts and had received positive mentions from critics. Monroe had just started dating Joe DiMaggio, and she was to appear on the cover of LIFE magazine the following month. This was clearly an important and pivotal period in her career, and it appears as though she was meeting with someone in the industry who gave her counsel. One of the warnings appears to come from Johnny Arnez; Monroe put's his warning in quotations: "you'll have to protect yourself or your throat will be cut/ watch out for Jerry Webb." It continues, "you'll prepare the test & Webb shoots it and if something is wrong it will [be] your fault." A great deal of the notes reference Webb and things he has said behind her back. Berniece Miracle mentions seeing Webb, the test director, in the Fox commissary in the late 1940s when she snuck onto the lot with Monroe to spend the day with her half-sister. The notes also contain thoughts from Monroe reading in part, "I need a great deal of work – and will always/ its the right kind of work/ -the more I will be able to stand on my feet." and "think with your body/ let go physically to ick up emotionally" and "you want me to be a star/ and I can be one of your greatest stars/ when I'm doing the right/ work and know I'm doing." Just over two months after these notes were written, Monroe learned that she had gotten the part of Lorelei Lee in Gentlemen Prefer Blondes.
10 1/2 by 5 inches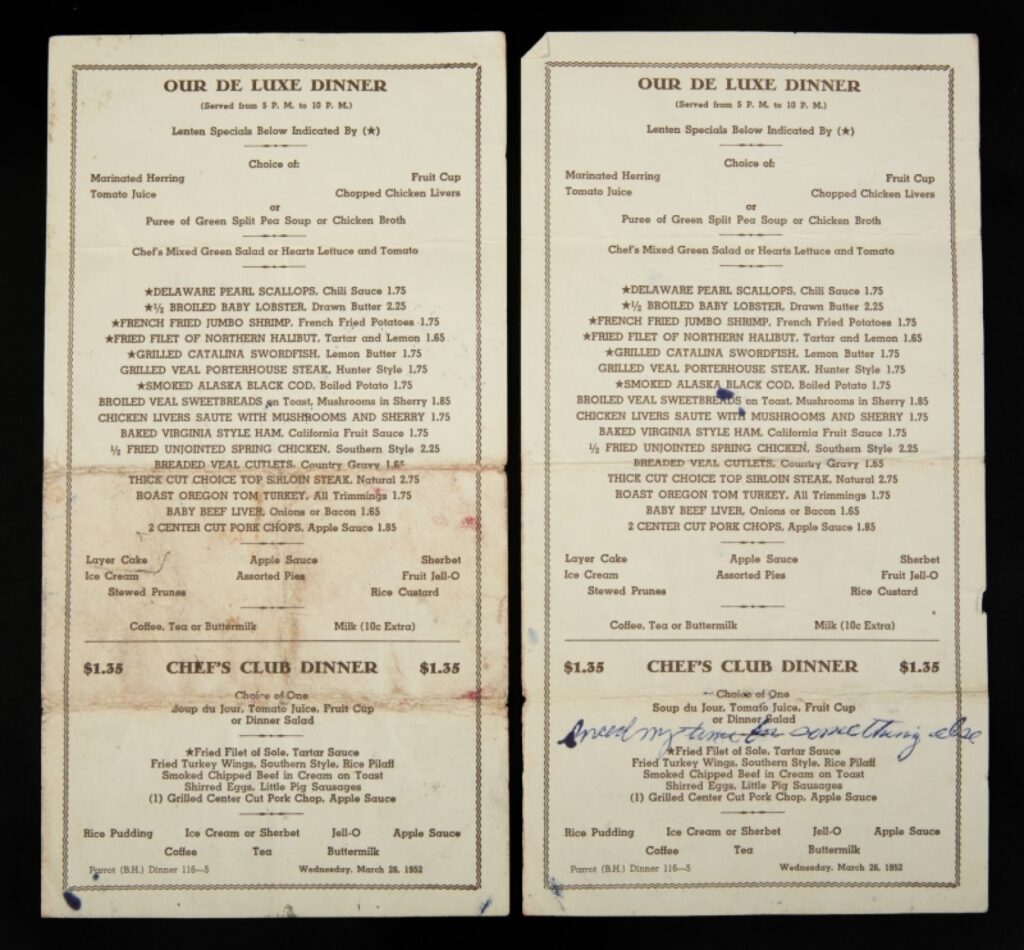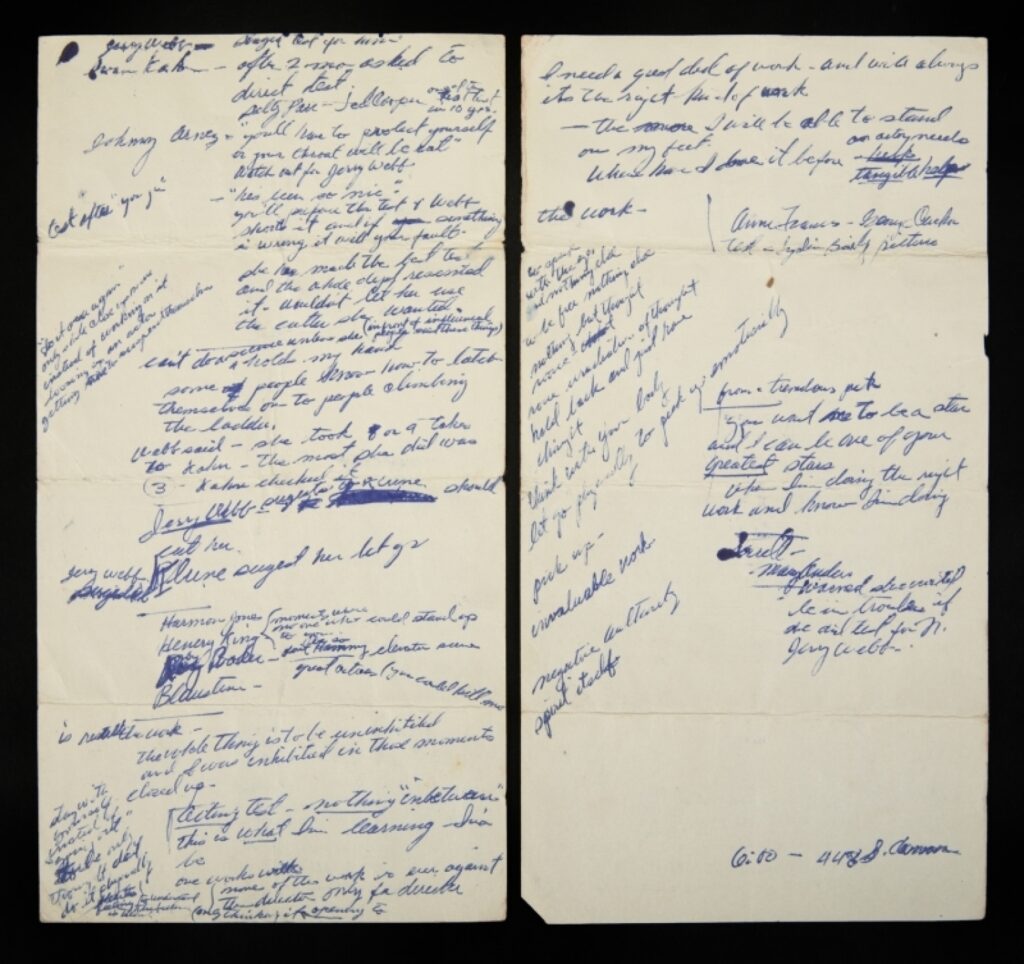 ---
A Cecil Beaton Photograph: This particular image of Monroe is widely believed to be her favorite. It's reported that she kept multiple copies of this photo to sign for friends and fans. This photograph was one of Marilyn's personal copies.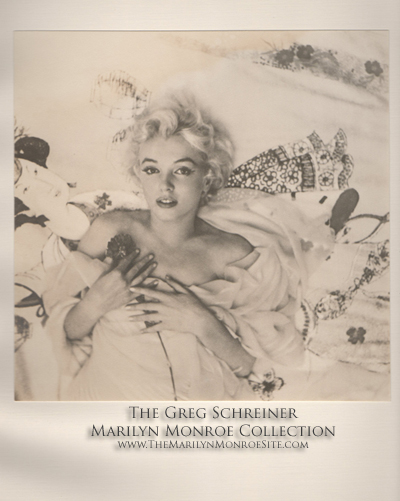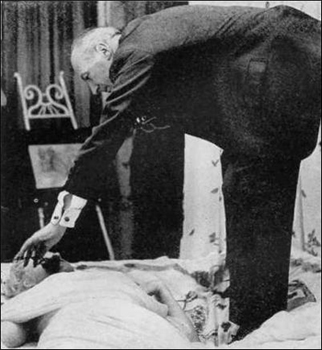 Shown above, Cecil Beaton and Marilyn Monroe during this photo session.
---
Marilyn Monroe Handwritten Directions to Sidney Skolsky's Home: Penciled  by the star on the torn-off and partially ripped back flap of a manila envelope, the directions read in full "415 N. Las Palmas / Bev Blvd 2 Bl E of Highland / take a left"; the address being that of Sidney Skolsky's house in the Hancock Park section of Los Angeles. Skolsky was a well-known Hollywood gossip columnist who early on befriended and aided the young Marilyn when she was a still a struggling actress in the late 1940s. Skolsky often acted as her date for industry functions and the two remained close friends for the duration of Monroe's life.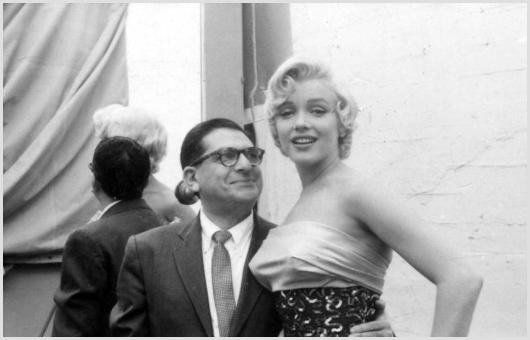 Sidney Skolsky and Marilyn Monroe
---
A George Cukor Christmas Card: From the personal files of Marilyn Monroe, a Christmas card from George Cukor to Marilyn. Cukor was Marilyn's director on "Let's Make Love" and the never finished "Something's Got To Give."
"Loving Christmas greetings, dearest Marilyn and all happiness in the New Year / Always George"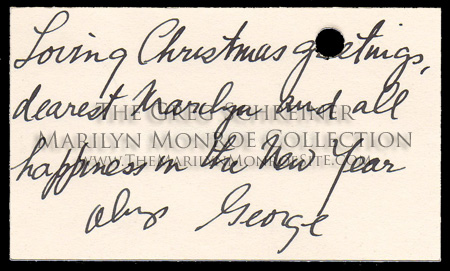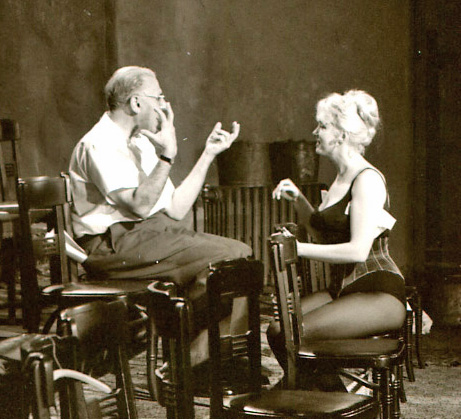 ---
Marilyn Monroe Productions: The Dissolution of the Partnership Between Marilyn Monroe and Milton Greene
Twice signed by Marilyn Monroe, this original document officially and forever dissolved the business partnership between Marilyn Monroe and Milton Greene, effective February 26, 1958.
"The parties hereto agree that any and all agreements (i) between Green and Productions (ii) between Greene and Miss Monroe and (iii) between Greene, on the one hand, and Miss Monroe and Productions, on the other hand, are terminated and of no further force and effect."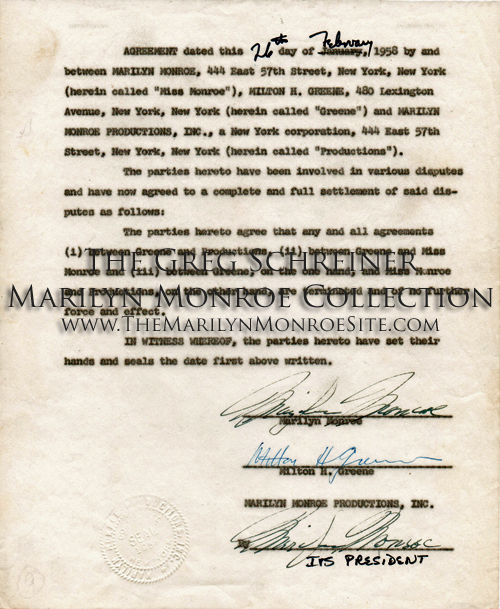 ---
Marilyn Monroe Stationery: An original piece of stationery with matching envelope, embossed with "MARILYN MONROE," from her personal files.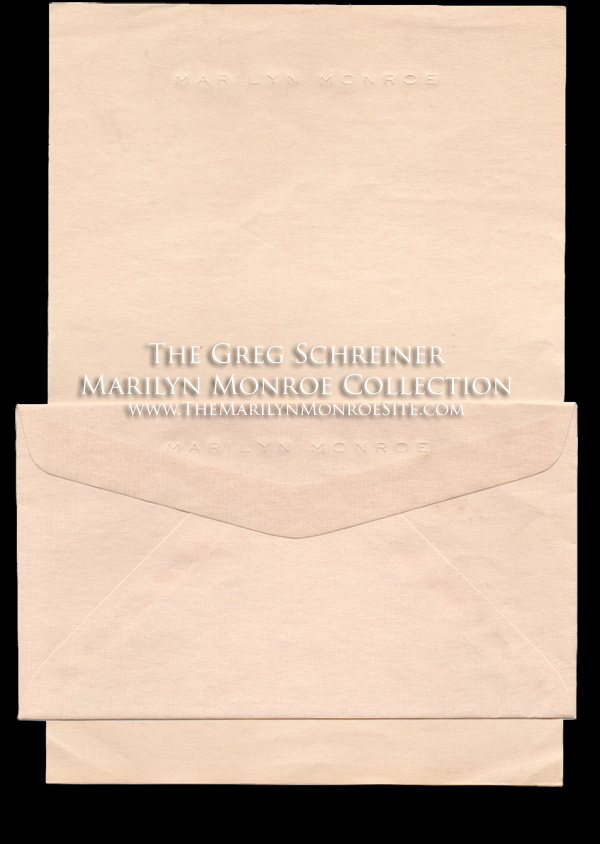 ---
A Marilyn Monroe Pill Bottle:  A pill bottle belonging to Marilyn Monroe, possibly found on her bedside table the morning after her death.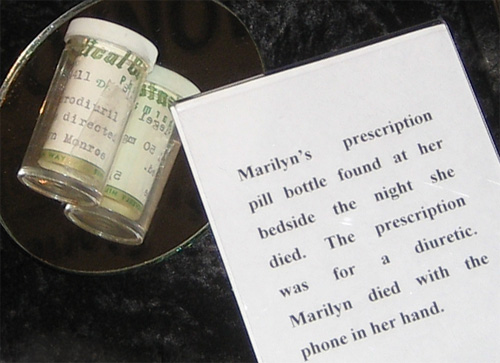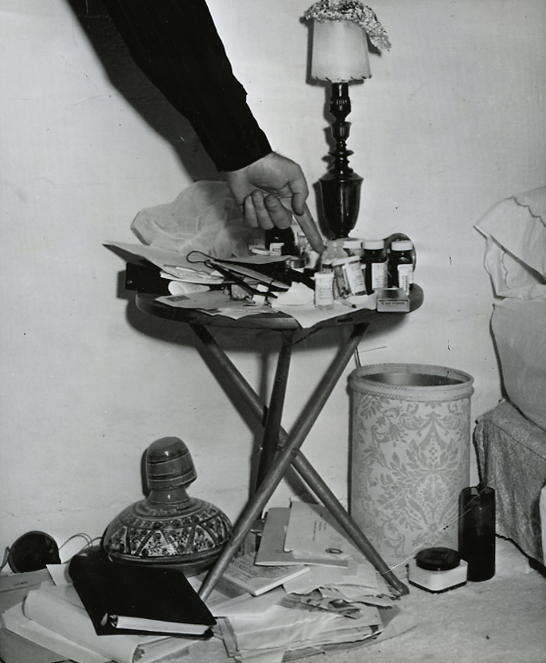 ---
Tiles from Marilyn Monroe's Home:  Original tiles, selected by Marilyn Monroe to use in redecorating her new home, located at 12305 Fifth Helena Drive, Brentwood, CA.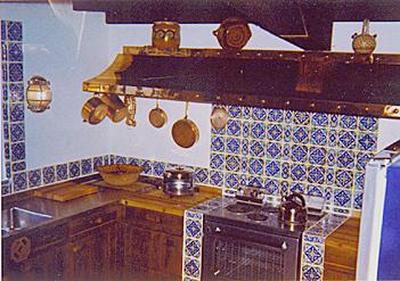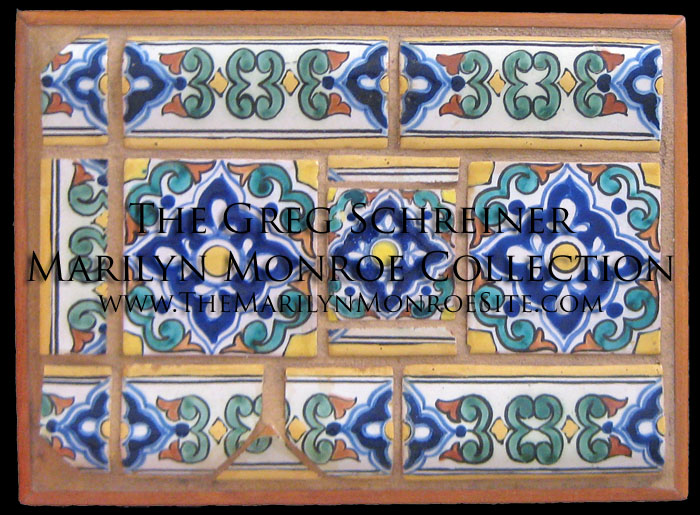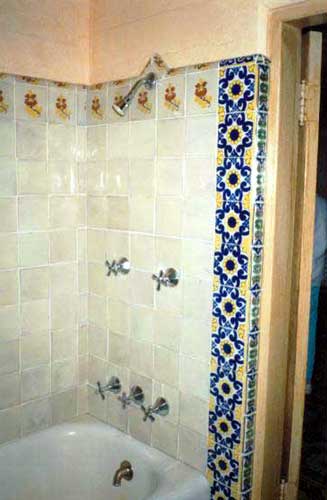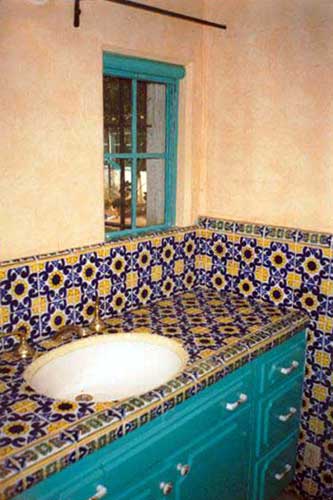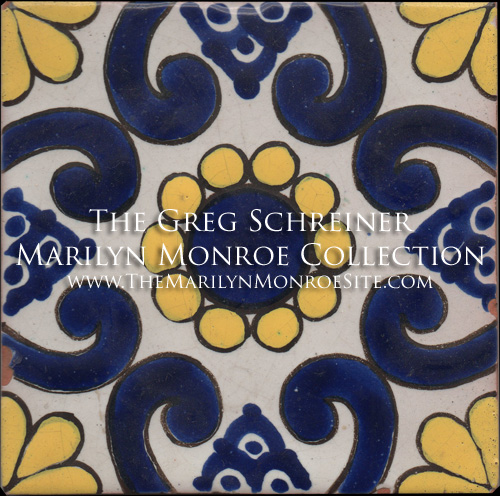 ---
A Living Room Sofa:  A deep seated living room sofa, acquired for Marilyn's final dwelling at 12305 Fifth Helena Drive in Brentwood.  This sofa was first purchased by the Nunez family in 1963.  They also bought numerous other items from the estate.  Originally, the sofa was upholstered in a brilliant red fabric.  Due to wear and tear, the sofa was eventually recovered by the Nunez family in this striking gold color.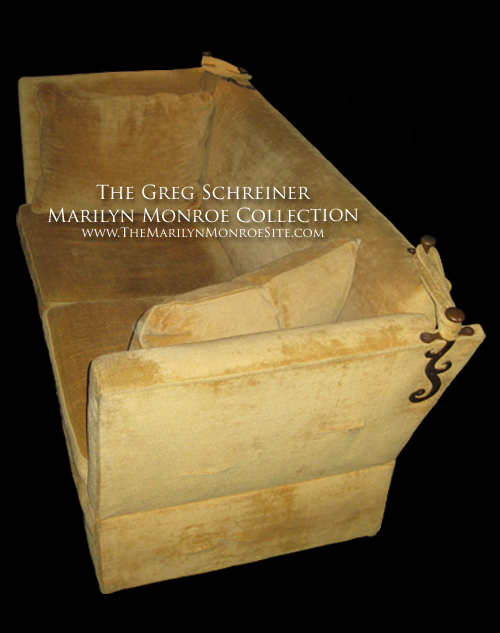 An artist's rendition of the sofa in Marilyn's living room.
---
A Coffee Table and a Footstool: A solid wood coffee table, together with a small rustic-style foot stool made of solid wood with a woven straw top.  This table and stool were likely custom-made for Marilyn in Mexico where she bought a number of household items for her final dwelling at 12305 Fifth Helena Drive in Brentwood.  The photos below show the table and stool in Marilyn's Helena Drive house.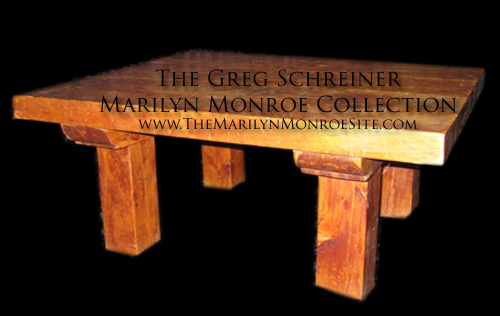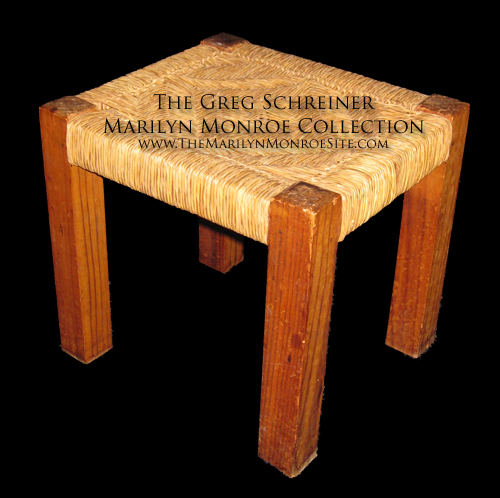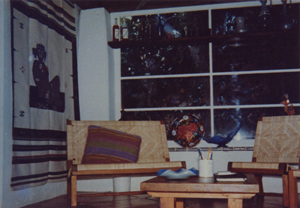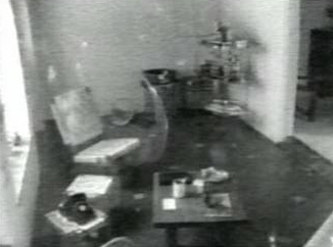 ---
Dining Room Furniture and Painting:  A china cabinet, a dining room chair, and an oil painting, owned by Marilyn Monroe.  This cabinet and chair were likely custom-made for Marilyn in Mexico where she bought a number of household items for her final dwelling at 12305 Fifth Helena Drive in Brentwood.  Marilyn purchased the painting, titled "Thistles #7" in Beverly Hills.  The photos below show this furniture in Marilyn's Helena Drive house, along with the oil painting.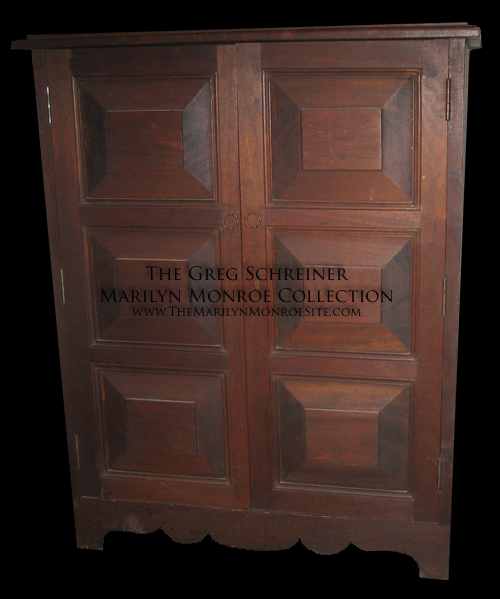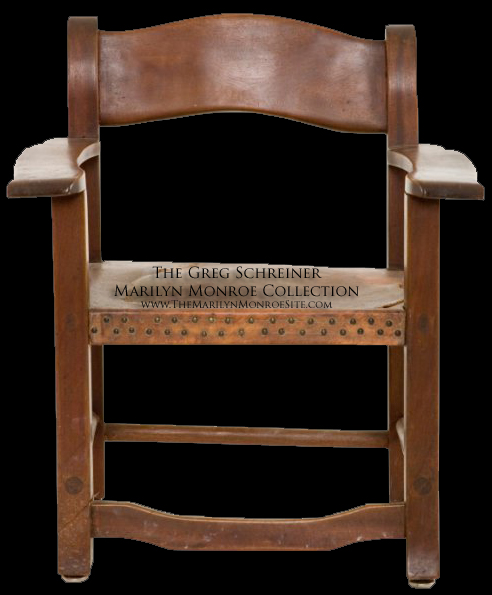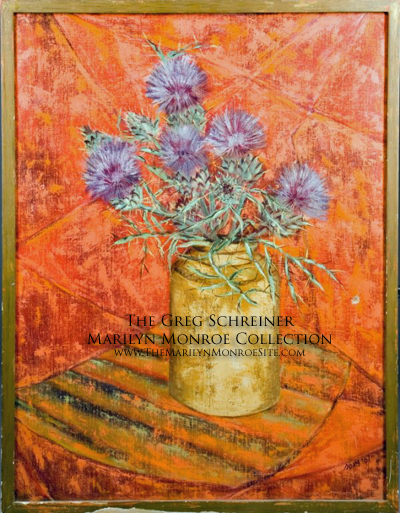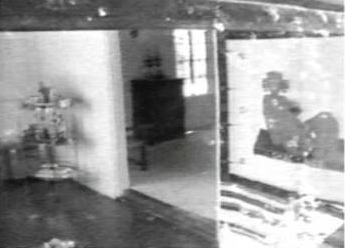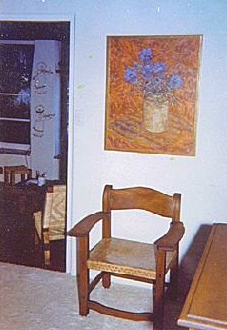 ---
A Bedroom Dresser:   Marilyn Monroe's personal bedroom dresser, which was next to her bed the night she died. Photos taken of the bedroom through the window show the corner and side of this furniture. Made of solid wood, this dresser was likely custom-made for Marilyn in Mexico where she bought a number of household items for her final dwelling at 12305 Fifth Helena Drive in Brentwood. The photo below shows the dresser in Marilyn's bedroom at the Helena Drive house.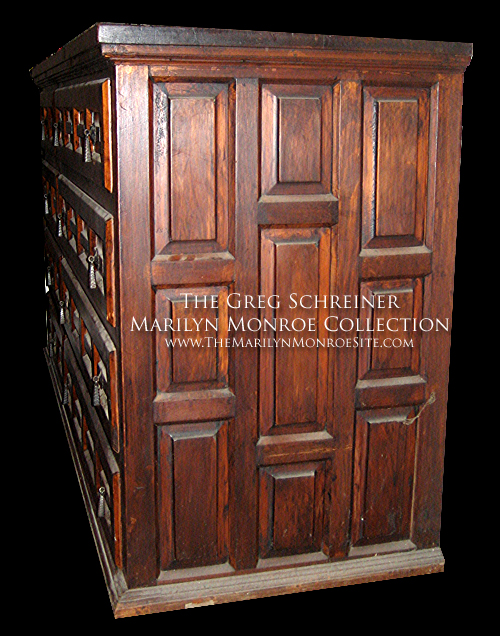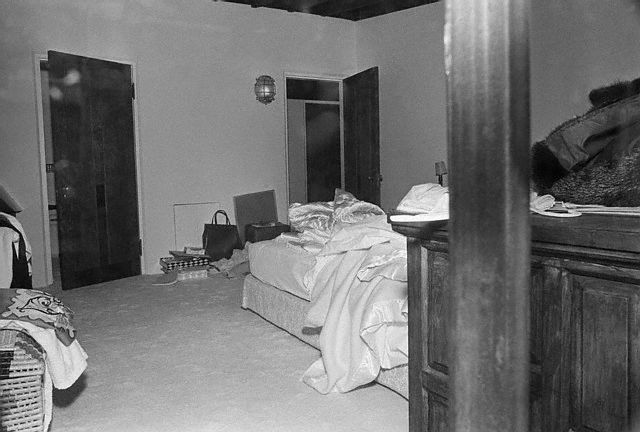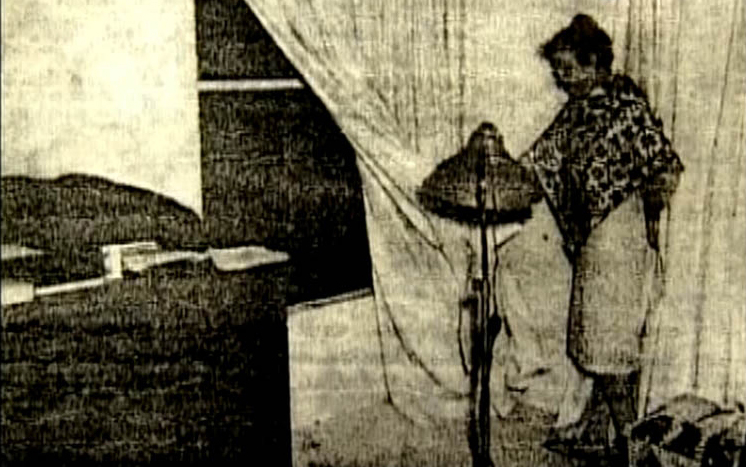 Eunice Murray, showing the window that was broken by Ralph Greenson in order to gain access to Marilyn's room in the early morning hours of August 5, 1962. Note that the dresser can bee seen in the lower left corner of this photograph.
---
A Hotpoint Kitchen Refrigerator: A stainless steel Hotpoint refrigerator, state of the art for 1962, from the final home of Marilyn Monroe, located at 12305 Fifth Helena Drive, Brentwood. This refrigerator held the last meal Marilyn Monroe ever ate. The refrigerator can be seen in the photos of Marilyn's kitchen below. Note that the sides of the refrigerator were painted blue to match the striking blue kitchen tiles, which Marilyn personally selected during one of her trips to Mexico to buy furnishings and house wares for her new home.