Below are additional items from the Greg Schreiner Marilyn Monroe Collection
---
An original photograph from President John F. Kennedy's birthday celebration, taken backstage at Madison Square Garden on May 19, 1962.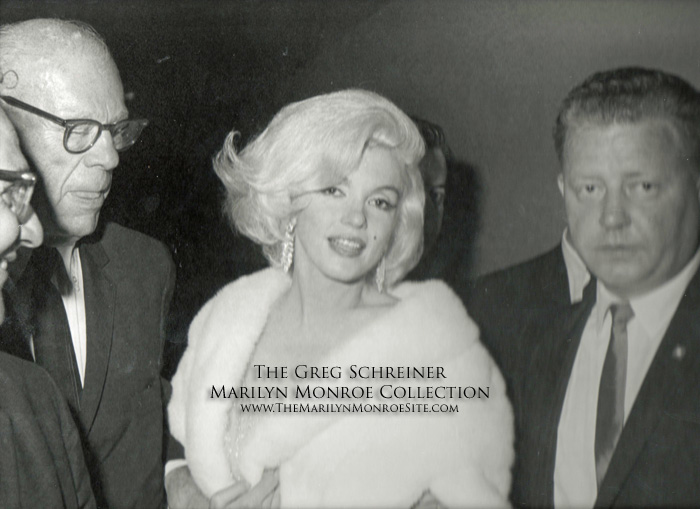 ---
A Set of Never Before Published Photographs of Marilyn Monroe: Taken on the set of "Let's Make Love," these images of Marilyn have never been published, or seen by the public.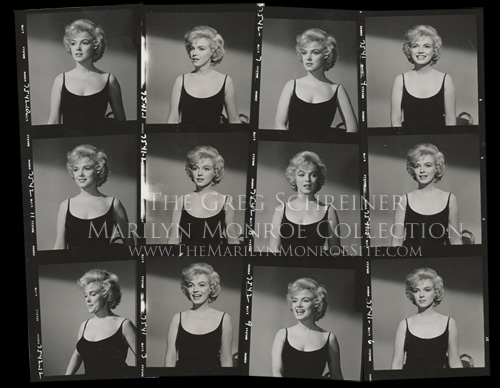 ---
Gladys Baker Photograph: An original photo of Marilyn Monroe's mother, Gladys Baker.
---
A 1949 Telegram from Marilyn Monroe to Milton Greene: An original telegram, sent by Marilyn Monroe to Milton Greene after their first meeting in 1949. This telegram exhibits Marilyn's unique and creative poem writing skills. Greene was a close friend, and a business partner in Marilyn Monroe Productions.
"MILTON GREENE, I LOVE YOU DEARLY
AND NOT FOR YOUR HOUSE AND HOSPITALITY MERELY
IT'S THAT I THINK YOU ARE SUPERB-
AND THAT MY DEAR IS NOT JUST A BLURB."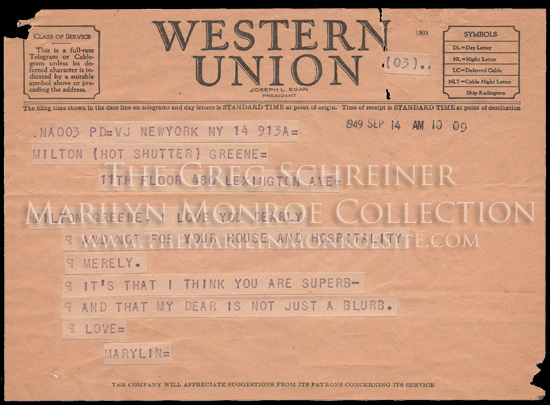 ---
A Letter to Grace Goddard, Marilyn Monroe's Foster Mother: An original letter from 1953 to Grace Goddard, Marilyn Monroe's Foster Mother, from her step-daughter Jody Lawrence.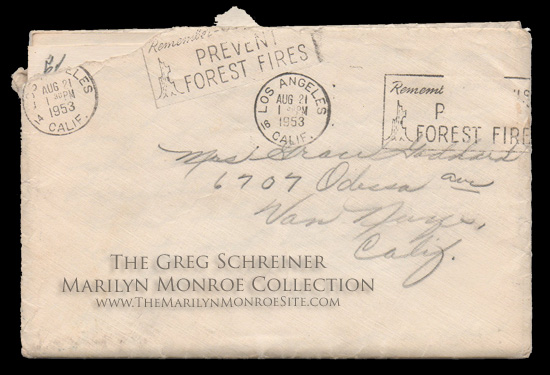 ---
A Marilyn Monroe Annotated Page of Interview Notes: One page of questions typed on Beverly Hills Hotel letterhead that journalist Henry Brandon of The Washington, D.C. Sunday Times sent to Monroe in January, 1960; a number of MM's responses are penciled on the document: her answer to psychoanalysis helping the actor – "any knowledge about one's self can only help the actor and increase his / understanding / and others – the different characters one has to portray;" her answer to how males from different countries approach women – "unfortunately, I have sufficient exposure in the 'male,' / if they were African, France [sic], / English or American, I doubt / if there would be that much / difference in the / approach;" her answer to what writers influenced her – "most recently, D.H. Lawrence – Sons & Lovers;" and her postscript "include / note thanking him / for plant azalea." A second page of typed transcript to MM's answers is attached, with a few additional questions noted such as "What is the definition of an egg-head? Someone who calls you Mrs. Arthur Miller. Any reaction?" and MM's typed response of "As to the joke, I don't think I get it."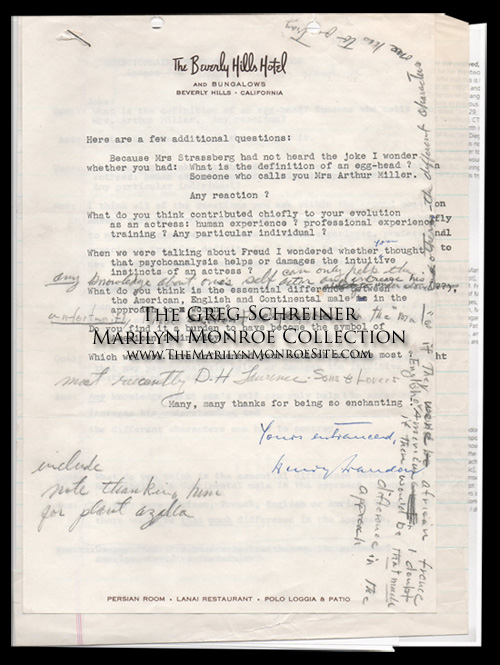 ---
A Marilyn Monroe Autograph: An original Marilyn Monroe autograph, signed "To Mickey / Best Wishes / Marilyn Monroe." Marilyn signed this autograph when in Rockford, Illinois during the promotion tour for "Love Happy" in 1950.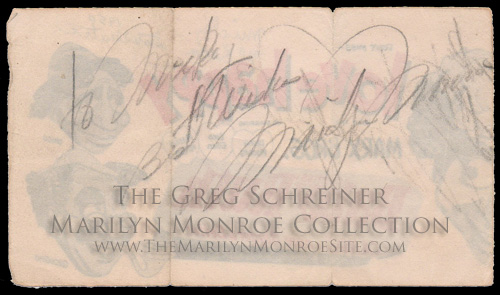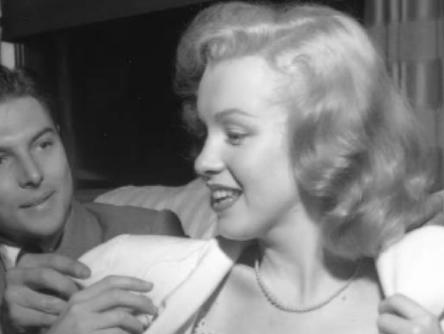 A candid photo Marilyn Monroe on the "Love Happy" tour in Rockford, Illinois.
---
A Marilyn Monroe & Jane Russell Autographed Album: An original soundtrack to "Gentlemen Prefer Blondes," signed by Jane Russell and Marilyn Monroe to columnist Walter Winchell.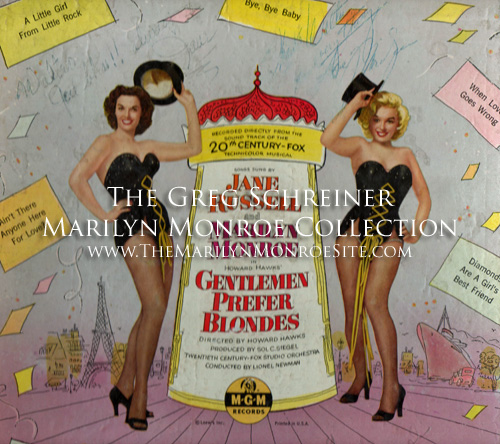 ---
An Original Matchbook from the Launch Party for Marilyn Monroe Productions:  To commemorate the launch of Marilyn Monroe Productions, Marilyn Monroe and business partner Milton Greene ordered books of matches reading "Marilyn Monroe Productions, Inc., Brentwood, California."  This matchbook is an original souvenir from the party, which was held on January 7, 1955.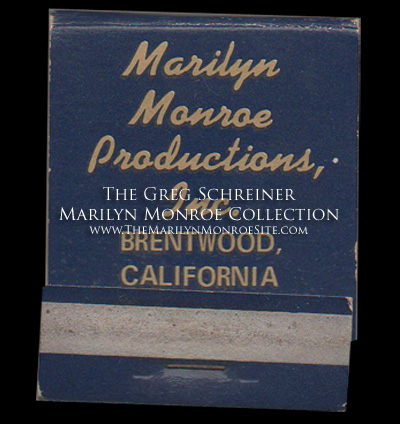 ---
An Original Script: "Something's Got To Give," for Marilyn's final and unfinished film.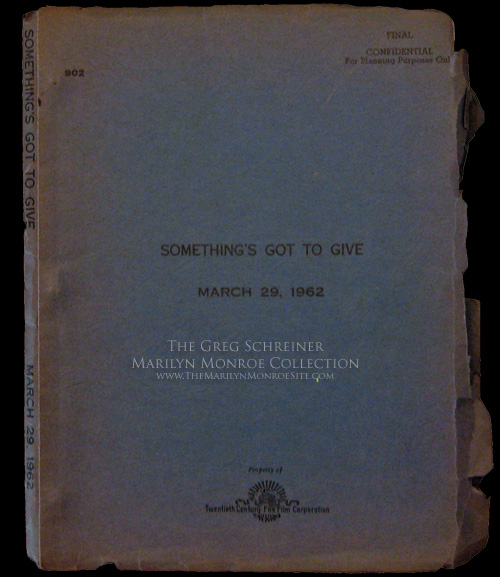 ---
An Original Script:  "Harlow".  This script is from the actual film production that Marilyn was considering in 1957.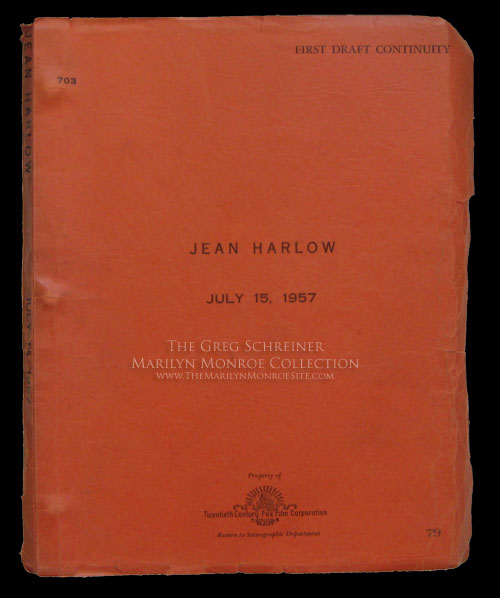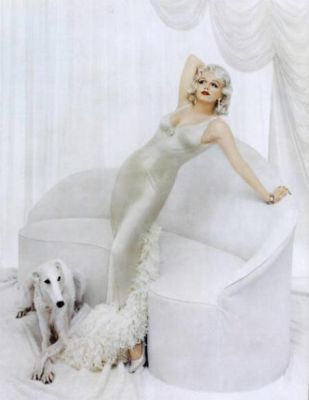 Marilyn Monroe as Jean Harlow. Photo taken for Life Magazine by Richard Avedon in 1958.
---
Let's Make Love Sheet Music: "Specialization" – Perhaps Marilyn's own personal sheet music for "Specialization," performed in the 1960 feature Let's Make Love.